Join the Slammer Tour
No league fees and your first regular Ottawa game is free!
Just sign up here and once confirmed, we'll send you your login information and you can go ahead and register for an event.
Your first regular Tour event with the Ottawa-Gatineau Chapter is on the house, assuming there's an available spot in your event of choice. If not, we'll bank your free event until honoured. This free event applies to regular Tour events and not special events such as the ClubEG Spring Opener, Commish's Cup, etc., but there are daily events to choose from.
After that, you simply pay the event fee as you play — and naturally you are responsible for your own optional doggie and skin entries.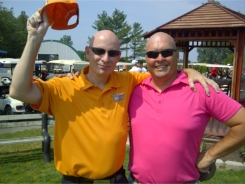 Who can join?
Anyone, as long as they have a love for the game, the rules and friendly competition. This means rookies, beginners, pros, men, ladies, juniors, seniors... anyone. All are invited to join.
Welcome rookies...
Just sign up for an account below and once you receive your login information, you can register for an upcoming event and let us know it's your first event so you won't get billed — assuming there's an available spot of course. This free event applies to regular Slammer Tour events in the Ottawa-Gatinea region, only, and excludes majors such as the ClubEG Spring Opener, Fall Opener, Commish's Cup, Canada Day at Canadian, New Years' Eve, etc.
Finally, all rookies who play 10 or more events get a complimentary entry into the Ottawa Sun Scramble City Championship, a partner scramble format with your choice of 12 divisions from high-handicappers to pros.
Register today!
Basic Tour Info
Doggies (closest-to-the-pin on the par-threes) are a Tour favourite and participation in this side competition is optional with a five-bone entry fee. Players must make par or better to finalize their doggie win. Three-putts are a no-no.
A Broker4Tickets Skin is when you win a hole, outright, or when you make the best score out of all Slammers during a particular event. The skins game is also optional for a five-bone entry fee.
Payment Methods
Have the fee charged to your ClubEG account.
Interac Email Money Transfer. Send to payments@clubeg.ca from your own online banking site.
Mail cheque made payable to ClubEG to the address below:
ClubEG
362 Kintyre Private
Ottawa, ON
K2C 3M6
Slammer Milestone Awards
To recognize frequent participation, all Slammers who meet the following milestones earn some fabulous SlammerGear!
If you have reached any of these milestones, just send us an email and we'll set you up.
Click here for Tour veteran and rookie milestones.
Refer a new Slammer and get a $10 credit for SlammerGear!
We hope to see you on Tour soon!